ERROL RAPIDS CLASS II




THIS LIGHTHEARTED ADVENTURE IS OPEN TO THOSE AGES 6+




** Reservations Required **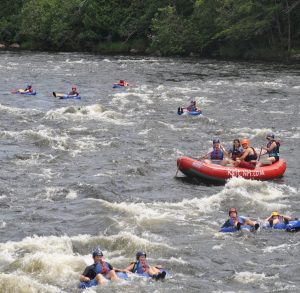 THIS RIVER ADVENTURE HAS CONCLUDED & IS NO LONGER AVAILABLE FOR SUMMER 2017
This is our weekday rafting adventure. It's a fun, laid back day on the river and is perfect for those looking to fit in many adventures in one day. On this trip we take 3 runs down Errol's section of rapids (under 1 mile in length). After each run, guides and guests bring the rafts and river tubes up a short stretch of trail back to the shuttle. This laid back adventure is perfect for families, beginner rafters and those just looking to have fun on the water. The trip is offered Monday-Friday during the early and late season (May, June and September). This trip is offered Monday-Thursday during peak season (July and August). This adventure meets at our raft base in Errol, NH and last approximately 3.5 hours from start to finish and is offered 2 times throughout the day (9:00am and 1:00pm).
Trip 1:
Check – In At Errol Raft Base: 9:00am
Depart For River: 9:30am
Arrive At The River & Hit The Water: 10:00am
Leave The River: 12:00pm
Return To Base & Depart: 12:30pm
Trip 2:
Check – In At Errol Raft Base: 1:00pm
Depart For River: 1:30pm
Arrive At The River & Hit The Water: 2:00pm (conduct three runs)
Leave The River: 4:00pm
Return To Base & Depart: 4:30pm
Adults (13+): $50
Children (6-12): $45
PRICE INCLUDES: safety gear, comfort gear, transportation
from our raft base in Errol, NH to (and from) the river and a light riverside snack.
** Please note that we require at least 6 guests be signed up in order to conduct this river trip. If the trip minimum is not met, you will be contacted by 5:00pm the day before your departure. **
The American Whitewater Association Classifies Class II Rapids As: Straightforward rapids with wide, clear channels which are evident without scouting. Occasional maneuvering may be required, but rocks and medium-sized waves are easily missed by trained paddlers. Swimmers are seldom injured and group assistance, while helpful, is seldom needed. Rapids that are at the upper end of this difficulty range are designated Class II+.