Now the early bird not only gets the worm, but also a discounted rafting adventure! Join us for an 8:45am Magalloway River Class III & IV rafting adventure and save 15% off our already competitive rates!

This signature package was designed for those that want to experience the great outdoors in a fun and unique way (without breaking the bank)! Pair our 9:00am rolling dog sled experience with either of our family-friendly, afternoon rafting adventures (Errol Rapid Class II or Pontook Dam Class II+) and receive 10% off standard pricing. Package pricing starts at $92.70 per adult and $79.20 per child (*this pricing reflects our 9:00am rolling dog sled ride and Pontook Dam Class II+ afternoon rafting adventure). We encourage guests to book this package early as space is limited for this combo adventure. Please be advised that this is a "rain or shine" activity, come prepared for the changeable weather of New England!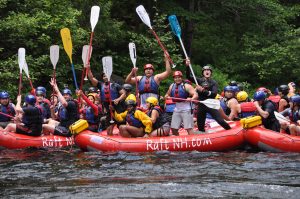 Are you looking for an outdoor adventure that's low on price but high on excitement? Our river adventures are perfect! In addition to our already budget-friendly pricing, confirmed groups of 10 or more can receive a 10% discount on any of our rafting adventures (must be reserved under 1 reservation with 1 form of payment and may not be combined with other discounts).
To redeem any of the above specials/discounts please contact us directly at 603-545-4533 during office hours (9:00am – 5:00pm EST). The above offers are only good for new reservations and may not be applied to previously made reservations and/or combined with other specials/discounts.