RAPID RIVER CLASS IV




THIS REMOTE ADVENTURE IS OPEN TO THOSE AGES 12+




** Reservations Required **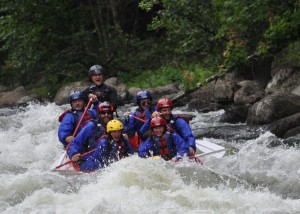 THIS RIVER HAS FINISHED RELEASING & IS NO LONGER AVAILABLE FOR SUMMER 2017 
This river is a legendary adventure among paddlers. However, it is so remote that many commercial outfitters stopped running it years ago. As one of the closest solid Class IV river adventures to Boston, this trip fills up fast! This trip meets at 8:00am and 10:00am at our Errol raft base. Let us transport you from our base through the deep woods to an adrenaline packed adventure. This trip starts out with a gorgeous 30 minute, 1.5 mile paddle across "Pond in the River" where your experienced Maine guide will teach you how to paddle the raft. From there, it's all downhill (which is a good thing if you are rafting)! Rapid after rapid with successively increasing intensity for 4 miles is what gives this river its legendary status. Holes the size of SUVs and towering waves will have you asking when we can go again!?! Finish off the river trip with a relaxing raft tow across the pristine Lake Umbagog. A meal is enjoyed when we arrive back to base. Due to the remote and extreme nature of this trip, only those ages 12+ are permitted to participate in this trip. There are very few evacuation points, once you start you are committed to the entire journey! This trip is offered only 10 times throughout the entire summer, advanced reservations are strongly encouraged!
Trip 1
Check – In At Errol Raft Base: 8:00am
Depart For River: 8:30am
Arrive At River & Hit The Water: 9:30am
Leave The River: 2:30pm
Return To Base & Enjoy Lunch: 3:00pm
Trip 2
Check – In At Errol Raft Base: 10:00am
Depart For River: 10:30am
Arrive At River & Hit The Water: 11:30pm
Leave The River: 4:30pm
Return To Base & Enjoy Dinner: 5:00pm
Participants 12+: $115 On Fridays & Sundays
Participants 12+: $125 On Saturdays
PRICE INCLUDES: a guide, safety gear, comfort gear,
transport to the river put in from our raft base, a light snack and a meal.
THIS RIVER HAS FINISHED RELEASING & IS NO LONGER AVAILABLE FOR SUMMER 2017 
** Please note that we require at least 6 guests be signed up in order to conduct our river trips. If the trip minimum is not met, you will be contacted by 5:00pm the day before your departure **
The American Whitewater Association Classifies A Class IV As: Intense, powerful but predictable rapids requiring precise boat handling in turbulent water. Depending on the character of the river, it may feature large, unavoidable waves and holes or constricted passages demanding fast maneuvers under pressure. A fast, reliable eddy turn may be needed to initiate maneuvers, scout rapids, or rest. Rapids may require "must" moves above dangerous hazards. Scouting may be necessary the first time down. Risk of injury to swimmers is moderate to high, and water conditions may make self-rescue difficult. Group assistance for rescue is often essential but requires practiced skills. A strong eskimo roll is highly recommended. Rapids that are at the lower or upper end of this difficulty range are designated "Class IV-" or "Class IV+" respectively.